"And what are you writing about, Molly Sue?"

"It's a sweeping romance about a robot vacuum that falls in love with a cyborg broom. It's bristling with excitement, and will suck readers in."

"How much have you written so far?"

"Oh, nothing. But, once I do write it, the novel will be absolutely delightful. I am sure it will brush away the competition."
The first step to becoming a professional writer is to write.
This appears simple at first. I can write words, and excellent sentences. Yet, the true challenge is to build these into wide vistas of whole stories, novels, and more. Sometimes the spectacular panoramic of the imagination comes out on the page as finger-painted blobs. They may be beautiful to your mother, but the rest of society may not be so impressed.
The second step is to write well about things yourself and other people are interested in.
The third step is to have people pay for what you have written.
I am hovering somewhere on the edge of step 2, building my craft in order to take the leap off and hope I land safely in step 3. It may take some scrabbling along the edge of the cliff to get to a steady base, but it is achievable.
With this in mind, I was excited when Tracey Lynne Tobin of No Page Left Blank graciously passed on the baton of a writing process blog hop to two other bloggers and myself.
I have been watching this round of writer's tag dance around the blogosphere, waiting for my turn to join in. I enjoy learning how other people work and pull tricks and tips from them. Hopefully, something I share can work for you too.
My Writing Process
What Am I Working On?
What am I not working on? I have to cut this down all the time so I can actually complete projects. Here are the projects in my pipeline:
Books 1-3 of the Pippington Tales

Book 1 – The True Bride and the Shoemaker – is in a post-Beta-reader's edit while my sister and I work on the cover.
Book 2 – The Lady and the Frog – is deep in its second draft. Still need to improve ending
Book 3 is about 20% into the first draft with a rough outline.

A short sci-fi story (needs a second half)
A sci-fi trilogy (plot outlined and still in world-building mode)
A self-help book for robots (outlined)
Oh, and figuring out what to do with Sleeping Beauty epic fantasy novel I've been working on over the past decade. (completed third draft, needs something, but I don't know what.)
At the moment, my main focus is in getting the first three books of the Pippington Tales completed, edited, and professional looking before launching them into the independent book scene. For the rest of the questions, I will be focusing on the Pippington Tales.
How Does My Work Differ From Others of Its Genre?
The Pippington Tales hover on the edge of fairy tale, fantasy, and period dramas. In the 30 second trailer version, it is a mix of Downton Abbey and Once Upon A Time (but, without the entire catalog of Disney properties to play with). In the world of books, it is most similar to:
Mary Robinette Kowal's Regency-set fantasy novels
Marie Brennan's A Natural History Of Dragons: A Memoir by Lady Trent
And, Terry Pratchett's Disc World series
The two greatest differences between the above novels/series and The Pippington Tales are:
1. The Pippington Tales is set in a pseudo-1910's world, old enough to still have horses, but late enough to have automobiles and other technology
2. The main characters are usually common, everyday tradespeople. For example:
The Truebride and the Shoemaker is about a shoemaker
The Lady and the Frog is about an auditor and his brother
The third book is about a match girl and a street magician.
There are some aristocracy in the novels, flitting in and out, but the focus is on people in the middle-class to lower-class range. (Actually, Discworld often focuses on these kinds of people, but it also focuses on wizards and Death himself.)
The greatest similarity is these are all fun, light fantasy. When the reader gets to the end of the book, I want them to feel warm like eating a fresh baked cookie.
Why Do I Write What I Write?
1. When I bring Pippington Tales material to my writing group, they ask, "What comes next?" When I bring other material, they say, "Well, that was pretty good." This goes back to Step 2 to becoming a published writer – write things yourself and other people like to read.
2. I love classics by Charles Dickens, George Elliott, Jane Austen, and O. Henry. I love the society drama, and the life of the lower class. I love the day-to-day struggle of people trying to get by, often told with a light tone.
3. I find the Pippington Tales fairly easy to write. Once I have a concept and characters, the whole stories often unfold in my mind and I speed through a draft to try to catch everything before it slips from my mind.
4. I believe the world needs more positive, uplifting stories. There are dark and scary moments, but there is always a spark of hope and humanity at the end.
This is partially based on the 13th Article of Faith from The Church of Jesus Christ of Latter-Day Saints:

"We believe in being honest, true, chaste, benevolent, virtuous, and in doing good to all men; indeed, we may say that we follow the admonition of Paul-We believe all things, we hope all things, we have endured many things, and hope to be able to endure all things. If there is anything virtuous, lovely, or of good report or praiseworthy, we seek after these things." (Emphasis added)

(See also Philippians 4:8 in the New Testament)
5. It's fun.
How Does Your Writing Process Work?
1. Seeds of ideas are planted in my mind from a dream, a movie, a book, a song, or a conversation.
2. Some of the seeds sit and do nothing, while others begin to take root. A few become stunted sprigs, a few become weeds, and a very few start growing like Jack's beanstalk.
3. Once the idea starts growing, it begins like this:
Then becomes…
Which, then becomes…
However, great spectacle does not make for great story (see a bajillion movie sequels). This is why my Sleeping Beauty epic fantasy has taken a decade to write.
Begin the real art of honing things down and building the plot around the characters, while also building the characters. Also, write down the quick and dirty summary/concept version. For example, Star Wars would look like:
Adventure story in space. Luke grew up in backwater planet, believes father's dead (save more info for sequels). Droids land on planet, take Luke to retired Jedi (will name later). They go to scuzzy city, join cool, hot smuggler guy – Han Solo? (that seems like a good name). Meanwhile, Princess Leia is in the clutches of Darth Vader and Grand Moff Tarkin. They do bad stuff. Blow up a planet. Luke, Han Solo (he needs a side kick), and Jedi (who still needs a name) get stuck on Death Star, rescue princess, things asplode. Jedi sacrifices self to stop Vader, everyone else escapes. Luke joins space fighter squadron and makes Death Star go boom. They all celebrate and have a super awesome dance party. The end? (Good concept. Needs a bit more development.)
Make a soundtrack / playlist for the story. This becomes the key to warming up to write certain scenes and characters, and reminds me of the tone I want the story to have.

Write the first sentence about thirty times before finding the right voice and starting point for the story.

Write as much and as fast as I can until I get writer's block. When I get writer's block, stop to do character and world building, clarify plot points, go back and refine what I have written so far, or work on something completely different for a day or two.

Complete the book.

Breathe. Hi-five a dinosaur.
Tag People!
While there are many people I'd like to tag, I think I'll keep it down to 3. They have been selected because they are 1. awesome and 2. I want to know more about their process.
1. Mike Allegra at Hey Look A Writer Fella
2. Brian Bixby at Sillyverse
3. Deby Fredericks at Wyrmflight
3.5. (Yes, I am cheating) Jack Flacco at JackFlacco.com
And here's some other people I've seen participate (If you've already participated, feel free to link to your post in the comments):
Brian Buckley at briandbuckley.com
What is your writing process? Do go by character, plot, or a mix of both? How much do you outline? What are some quotes that inspire you as a writer? Which established authors would you like to answer these questions?
Side Note: What do you think Once Upon A Time is going to do now that they are adding Frozen to their mythology? And who wants to see a Once Upon A Time musical episode to rival Once More With Feeling from Buffy?
Side Note 2: Ben Affleck as Batman. Looking pretty good so far.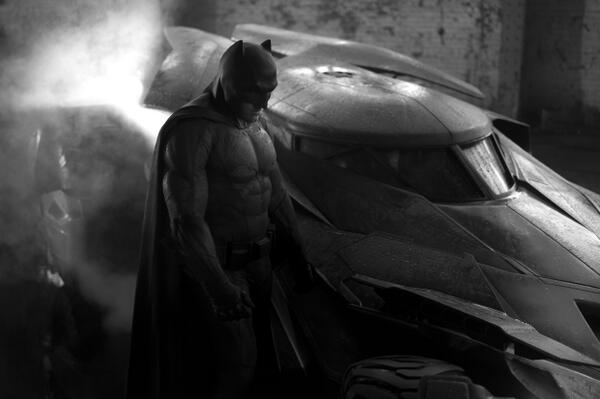 Side Note 3: Fantastic Beasts and Where To Find Them is being released November 18, 2016
Not as exciting to me as December 18, 2015, but definitely something to look forward to.