This past month, I've seen Fantastic Beasts and Where To Find Them and Dr. Strange. Both are fun expansions on their respective fandoms, taking the brand and stretching it a bit further while remaining true to the humor, wonder, and world developed in their companion films.
With these fun and well-made films in mind, I walked into the theater ready to be taken across the universe to a galaxy far, far away.
Rogue One is a promissory note of how Disney hopes to expand a beloved universe. It is the fulfillment of impossible dreams of many fans – that the Star Wars films could move beyond the Skywalker sagas now comprised in seven episodes, just as the books have. It is the potential realization of stories onscreen similar to the spectacular Rogue Squadron series (at least the first few books), stories just on the edge of the main heroes, allowing the hero to win the day and introducing us to new rebels to cheer for.
In many ways, Rogue One fulfills this promise. It introduces us to those on the periphery who risk everything to help Luke Skywalker use his Beggar's Canyon skills to blow up the greatest threat to the galaxy (until a bigger one is built by his nephew's crew). There are fulfillments of fan dreams in epic X-wing battles and war scenes to remind us of the great challenges the rebels face in seeking to overthrow the Empire. There are new faces, new worlds, and some old – rather oddly digitized – faces.
If it were a fan film, I'd be impressed by the production values (though my favorite fan film remains this) and dedication to the Star Wars universe. However, in its attempts to build new roads while throwing back to the saga films, it's a film which doesn't know what it wants to be. There are moments of greatness and some fantastic characters, but, just like the planets faced with the Death Star's laser, ends up imploding on itself.
UPDATE: On further reflection, this last paragraph sounds harsher than I mean it to. As I mentioned in a conversation on Facebook, I'd give the film a B+ for most of the film, but drop the grade to a B- for the last three minutes of the film and the attempts to connect with the other Star Wars films which fell flat.
To go a bit more in-depth, beware of spoilers below.
What Worked
Jyn Erso
Jyn Erso is a great strong, female lead who makes us believe in her journey as a daughter of an Imperial scientist. The first ten to fifteen minutes of the film are the strongest as they focus on Jyn and her family (Though, this now being a Disney franchise, her mother dies). She's booty-kicking and feisty while having just enough heart to make us root for her.
Strong Supporting Characters
Our rag-tag band of misfits a la Seven Samurai / Dirty Dozen have just enough character to make you care about them. Every character grows, and though we know less about some than I'd like, they are fun to watch.
Space Battles
If you've read my blog for a while, you know that I love a good space battle – or even a mediocre one. Spaceships are almost always cool. X-wings are even better. And a hammerhead cruiser smashing into a Star Destroyer so you have a Star Destroyer double-whammy explosion of destruction? Awesome! Maybe even the best part of the whole film.
The Battle of Endor is still my favorite mass-space-battle. I also love some of the dogfights in the Batllestar Galactica reboot. The space-action in this movie is a respectable and fun addition with so many X-wings, a full rebel fleet, and female pilots.
Bail Organa and Mon Mothma
The film finally allowed Jimmy Smits to do something as Bail Organa, and brought back Genevieve O'Reilly from the cutting-room floor of Episode III to play Mon Mothma. It was nice to have a moment to see these essential background characters do a bit more. They still don't do a whole lot, but it's more than they got in the Prequels.
The Dirty Side of the Universe
As can be seen in the ensemble picture above, everyone's dirty and covered in grime. There's dirt and sweat and scruff, and these rebels look like they've been through a lot. After the shininess of the prequel trilogy, the return to grime is great. This is a lived-in universe and there are people facing a lot of challenges.
Blue Milk and Yavin IV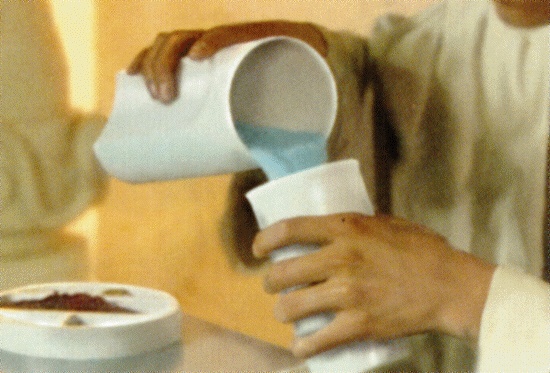 The throwbacks I felt worked best, besides the awesomeness of X-Wings, were the blue milk cameo at the beginning of the film (the Erso's are blue milk fans too!) and the recreation of the rebel base on Yavin IV.
On Yavin IV, all of the details from our first visit in Episode IV were there. It was great to have an organic return to a familiar place, and then have that place be integral to the story. We got to see the base in action, with the hustle and bustle we see in the background during Episode IV.
My only question is how bored is the guard on air control at the base? His job is important, but there can't be much going on. During his third appearance in Rogue One, I sat wondering what his daily journal would look like.
What Didn't Work
Why Are There So Many Pyramids/Towers And People Living In Deserts?
Did the Jedi build towers everywhere over the centuries and people just move in? With all the different cultures in the galaxy, wouldn't there be more architectural structures than pyramid-towers? We get one on pretty much every planet (see notes on Darth Vader for the one which should have the Eye of Sauron). Future Star Wars filmmakers take note – there is more to this universe than towers and pyramids.
As for desert planets, is the real estate on Alderaan just really high because it's basically the San Francisco of the Star Wars Universe (it's damp, forested and full of progressives)? Is that why people are living on Jakku and Jedha and Tatooine and Geonosis? Are moons the only ones that are forested (Endor and Yavin IV), though we get Takodana in Episode VII (where the pirates hang out)? I would love to see some action on a suburb planet. We've seen the city. We've seen the boonies. Where do people actually live in the Star Wars Galaxy?
The Return of Episode IV: Revenge of the CGI
We walked deep into the uncanny valley with the resurrection of Grand Moff Tarkin. The voice and character were way off and the CGI was as poor, if not poorer than Snoke. There could have been better CGI with some of the battles, but that's excusable. Placing Tarkin in was a matter of "can we do it?" and not "should we do it?"
Based on the results, the answer was no – they should not have. It pulled me out of the movie and the 'performance' was cringe-worthy. There are far more artful ways of disguising the absence – he could be an ominous voice off screen, he could have a surrogate officer. Instead, they went with, "well, it worked with Jeff Bridges in Tron: Legacy" (which was a digital character, so the sheen was excusable). This was not a great one.
It should be noted, the re-creation of Princess Leia at the end was far more impressive and believable. The moment still pulled me out of the movie because it felt inorganic. However, I can see how they used that moment to bridge this film to Episode IV.
Smooth Vader
Who's got the dance moves now, General? Are you going to "choke" on my smooth dancing and lightsaber skills? I might "choke" up on my lightsaber next time I fight Obi-wan. Are you getting my "chokes"?
Darth Vader gets a super-fancy cameo with smoke and a Cloud City-meets-Mordor lava temple setting. He's even got a smooth strut, a personalized smoke-machine equipped bacta tank, and new clothes. They're designed like the old, but the quality of fabric and plastic feel like a cheap knock-off. Did I mention, he stops and says a pun? Who handed the pen over to George Lucas for two minutes?
That being said, Darth Vader showing up and blowing rebel ships out of the sky was pretty awesome.
Since this is The Seven Samurai or The Dirty Dozen in space/ The Star Wars Universe, everyone dies. EVERYONE. Many of us cried when Han Solo's son stabbed him and sent him into a pit. We didn't have time to cry as these characters we just met – even though they were good characters – died. Our main cast died. Bail Organa left to die off screen. Our new favorite robot died. Random fighter pilots and rebel soldiers died.
We were left with the word "Hope" spoken by Princess Leia, but the word on my lips was, "Really?" They couldn't have left one person from our main crew to be the Wedge Antilles of this movie – to go on to the next fight? We follow these characters, grow to care, and then they are literally blown up in our faces.
I was waiting for the eagles from Lord of the Rings to show up and save our heroes at the last minute.
I feel these deaths are a betrayal of the promise of the movie and go against the grain of the Star Wars Universe. Star Wars has bleak moments – Empire Strikes Back ends in a rough spot – but there is always genuine hope and characters we care about go on. Star Trek: Beyond was a great example of having a great team lead us to a place of hope and belief in humanity. Rogue One just feels bleak at the end. There are major missed opportunities for future stories. Instead, we get what feels like a cheap copout to avoid explaining where these characters are during Episode IV.
One thing my sister and I discussed afterward was that perhaps the only way to survive in the Star Wars universe is to be a Skywalker.
Overall
Despite the drawbacks above, the film had a pretty good plot and better-than-average main characters. I enjoyed most of the film, until being pulled out by the ending. I think it serves well as a bridge between the Prequel Trilogy and the Original Trilogy in story and quality. We get a few gaps filled in and we have a few awkward things which are reminiscent of the many more awkward things in the Prequels.
This is a film made for Star Wars fans. If you don't know Episode IV, the cameos and hints at the larger world aren't going to make much sense. If you aren't much of a Star Wars fan, stick with Episode VII. I had fun watching Rogue One, but I haven't fallen in love with it
Readers:
What are your thoughts on Rogue One?
How would you rank the Star Wars films (see Side Note 1)?
What's the best spaceship battle?
What films would you recommend others to go see this holiday season besides Rogue One?
Are you hopeful or skeptical of the young Han Solo film?
What do you think Star Wars filmmakers could learn from the Marvel cinematic universe? (Both Dr. Strange and Captain America: Civil War were superb)
Side Note 1: 
Based on what I've seen online, I think I'm in the minority in not being in love with this film. I think part of the love for this film is because a lot of adults feel like the Star Wars stories have been dumbed down for kids and this one treats them like grownups. I appreciate that too, but could have used some real hope at the end.
Many have ranked Rogue One pretty high. Here's my ranking of the Star Wars films (gaps are on purpose):
– Episode V: Empire Strikes Back
– Episode VII: The Force Awakens
– Episode VI: The Return of the Jedi
– Episode IV: A New Hope
– Rogue One
– Episode III: Revenge of the Sith
– Episode I: The Phantom Menace
– Episode II: The Attack of the Clones
Side Note 2: A few years ago, I developed the diagram below on how to build a movie franchise. It's still fairly accurate, but I feel it needs to be updated with the swath of multi-film-expanded-universes that are coming our way.